The Downsizing Double Win
Downsizing can feel a bit daunting at first, but the process of decluttering and letting go of clothing and household furnishings that you don't use or no longer need can also be extremely rewarding.
After helping hundreds of older adults downsize into senior living communities and smaller homes, we know how difficult it can be to part with some possessions. But we've learned letting go of those extra end tables and dishes is much easier if you know they will go to someone who will appreciate them or support a cause you care about.
When sorting which items to keep and which to downsize, we find that people are much more apt to say "yes!" when asked, "Can we take this rug to the kids at the YES Club?" or "Would you like to donate these lamps to support victims of domestic violence?" than if we were to ask, "Do you want to get rid of this item?" As our clients have discovered, it's a lot easier to let things go when they can envision the people in their community who would benefit from unneeded household items.
For example, through our partnership with Fostering Further, we collect furniture and household items our downsizing clients no longer need and then furnish entire apartments for foster youth—many of whom exit the foster care system with nothing but a suitcase. By envisioning the youth who will be able to use a loveseat or bookshelf it is much easier to let things go. Read more about our partnership with Fostering Further here.
We call this the downsizing double win: our clients get a cozy, uncluttered new space and a charity gets needed household items to support the vital work they do in the community.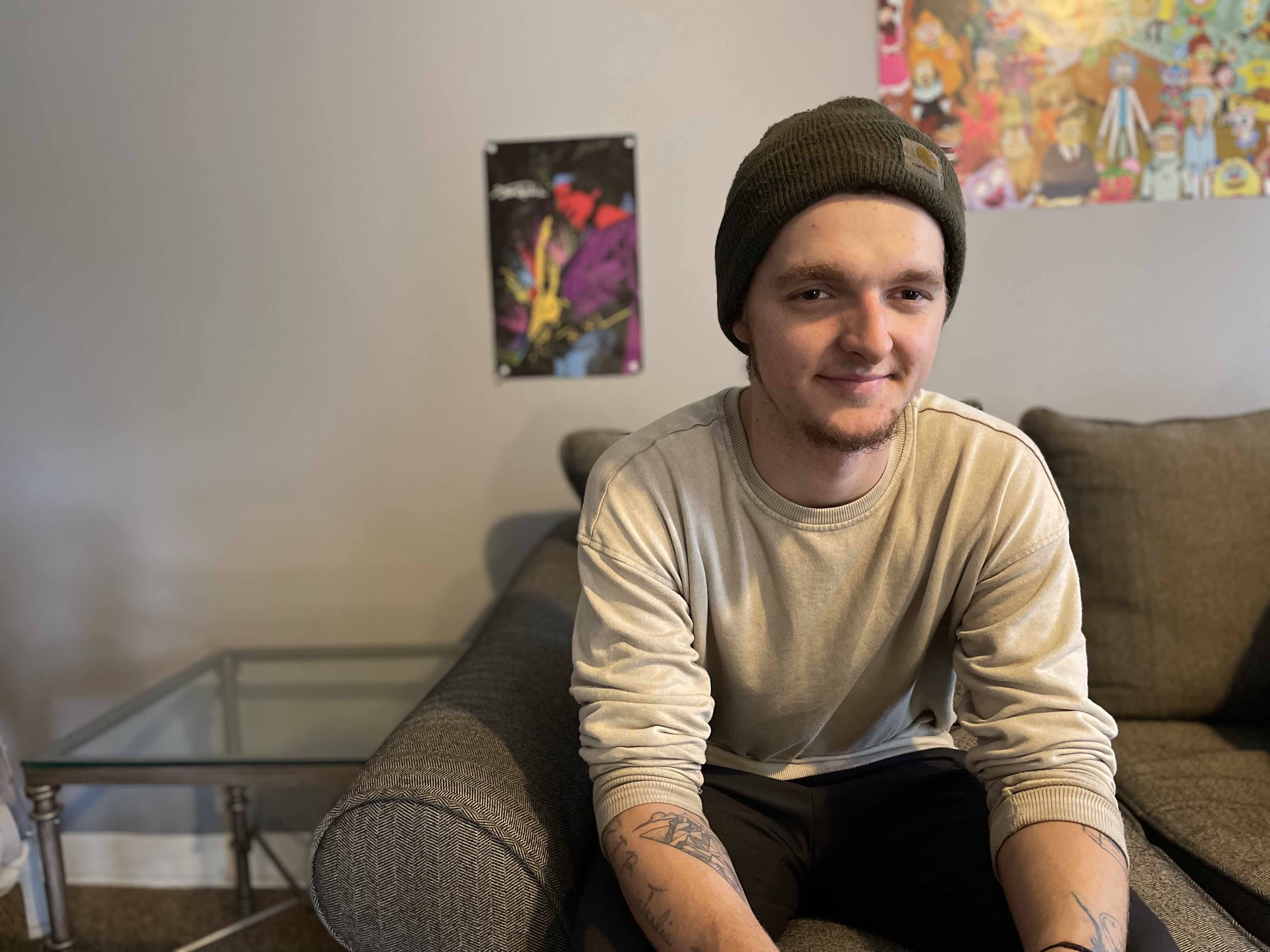 Pictured above is Aidan, one of the foster youth in Licking County who received furniture donated by Songbird Transitions clients. Aidan aged out of the foster care system and was briefly homeless before finding an unfurnished apartment with the help of Fostering Further. Songbird Transitions then set him up with a couch, coffee table, kitchen table, chairs, bed frame and mattress, plus kitchen appliances, dishes and other household items to make his space feel more like home.
Whether downsizing or simply doing some spring cleaning, consider donating your gently-used items to one of many local charities. We've compiled a list of some of the local service organizations we've supported in the past and the items they accept below.
LICKING COUNTY-AREA CHARITIES THAT ACCEPT DONATIONS OF HOUSEHOLD ITEMS
---
Look Up Center Opportunity Store
About: The Look Up Center is a local nonprofit sponsored by several local churches that offers a Skilled Trades Employment Program, dental & vision clinics and free or low-cost furniture and home goods to families in need through their Opportunity Store.
Drop off location: On Wednesdays from 9:00am - noon, drop off at 50 O'Bannon Avenue, Newark. Pickup also available on Fridays between 9:00am - noon when scheduled ahead of time.
YES: Dishes, mattresses, beds, couches, tables, furniture and other decor needed for a first home.
NO: pianos or musical instruments, exercise equipment, desks
---
St. Vincent de Paul
About: St. Vincent de Paul supports neighbors in need throughout Licking County by providing assistance with housing, utilities, food and clothing via its food pantry, thrift store and transitional shelter.
Drop-off locations: 135 Wilson Street and 200 East Main Street in Newark
YES: clothing, furniture, household items, appliances, food, toiletries
NO: large exercise equipment, luggage, gas appliances, bed frames, box springs, mattresses, car seats, cribs
---
Fostering Further
About: Fostering Further provides vital support to children and social workers in the foster care system and offers resources, mentoring and safe transitional housing for youth who "age out" of the foster care system.
Drop-off locations: contact Fostering Further to arrange for drop-off or take to the Look Up Center (see above)
YES: Furniture, gently used backpacks and suitcases, and household supplies for "welcome kits" which include: paper products, laundry supplies and household items such as plastic cups, plates and bowls, cooking utensils, 2 or 3 quart saucepan, non-stick skillet, baking sheet, strainer, measuring cups, bath towels, and pillows.
---
Licking/Knox Goodwill Industries
About: Goodwill provides training, employment and support services to individuals with disabilities and other barriers to employment.
Drop-off locations: All Goodwill stores including: 550 Hopewell Drive (Heath) 101 Union Street and 1199 Mount Vernon Road (Newark). Additional locations in Mount Vernon, Utica, Johnstown, Pataskala & Buckeye Lake
YES: Clothing, Shoes, Accessories, Housewares, Books, Appliances, Records, Exercise Equipment, Electronics, Computers, Furniture, and Toys.
NO: Newspaper, Cardboard, Office Paper, Magazines, Aluminum Cans, Wire Hangers, Baby Furniture, Broken Televisions, Items Containing Lead/Mercury, or Recalled Items.
---
YES Club
About: The Yes Club provides a safe place for teens to spend after school hours where they can access mentoring, tutoring, meals and programming on life skills and character development. Donated items go directly to support families in need.
YES: furniture, household items, rugs, bagless vacuums, clothing for 11 to 18 year olds, video game systems, art supplies, office supplies, gently used computers.
Drop-off: Contact the YES Club to coordinate drop-off details: 740-522-0937.
---
Sophie's Thrift
About: Sophie's Thrift supports the work of the Licking County Humane Society, a no-kill shelter that rescues animals to improve lives.
Drop-off location: 635 Hebron Rd., Heath (1-3 p.m. Mon-Sat)
YES: Clothing, shoes, draperies & linens, housewares, glassware, décor, books, DVDs, video games, tools, small electronics, furniture
NO: Stuffed animals, pillows, baby beds, car seats, tube TVs
---
Habitat for Humanity ReStore
About: Sales at Habitat for Humanity's ReStore, a "home and hardware thrift store," support safe, affordable housing throughout the region.
Drop-off locations: 1660 N. 21st St. Newark; 100 Sunrise Center Dr., Zanesville; and 707 Slocum Ave., Lancaster
YES: new or gently used items you would typically find at Lowes or Home Depot, including cabinets, furniture, doors, electrical, hardware, lighting, housewares, lumber, roofing, plumbing, windows, paint, tools, windows, tile, storage containers, jars of nails (not rusty)
NO: clothing, mattresses & box springs, rusty paint cans, TVs, fluorescent lights, automotive parts, clothing, curtains, shower doors, baby items, loose siding
---
Joseph's Coat of Central Ohio
About: Joseph's Coat provides clothing, furniture, and household goods to families in need.
Drop-off location: 240 Outerbelt Street, Loading Dock 6, Columbus
YES: Gently used furniture
NO: China cabinets, cribs, entertainment units, exercise equipment, grills, outdoor furniture, yard sale items
---
Furniture Bank of Central Ohio
About: The Furniture Bank of Central Ohio provides essential furniture to local families affected by domestic violence, homelessness, disability.
Drop-off locations: 118 S. Yale Avenue, Columbus and 1217 N Memorial Drive, Lancaster. Pickup services also available.
YES: mattresses, box springs, dressers, couches, sofas, chairs, tables, large appliances (less than 15 years old)
NO: furniture with rips, tears, or health risks including rodents and bugs.
---
Finally, a few pro tips: If donation items are torn, stained, ripped, broke, etc., it is best to dispose of them rather than donate them. Otherwise, it leaves charities with costly waste disposal fees for items that can't be resold.
Some items such as broken electronics, household hazardous waste (including paint, weed killers, bleach) batteries, and prescription medicines have special disposal requirements in order to protect people, pets, and the environment. Find Licking County-area drop-off locations for e-waste and other items that require special disposal here. For disposal in other regions, check with your local solid waste authority.