Songbird Story Profile: Champions for Children's Services, Sue & Chris
One of the very best parts of working with our senior downsizing clients is getting to know them on a personal level and learning more about their families, world travels, incredible career accomplishments and other rich life experiences. In this new series of posts, we are privileged to share some of these fascinating stories. We'll not only learn a little bit about their lives, we'll also discuss the highs and lows of their downsizing experience.
To kick it off, I'd love to introduce you to Sue and Chris.
Sue and Chris first met as students at Denison University and Chris is one of four generations of family members that have attended the college. In working with the couple, I learned of a scholarship and prominent plaque on campus honoring Chris's grandfather, John, and his famine relief work in China. Over the course of several conversations, it was clear that a dedication to serving others runs deep in the family.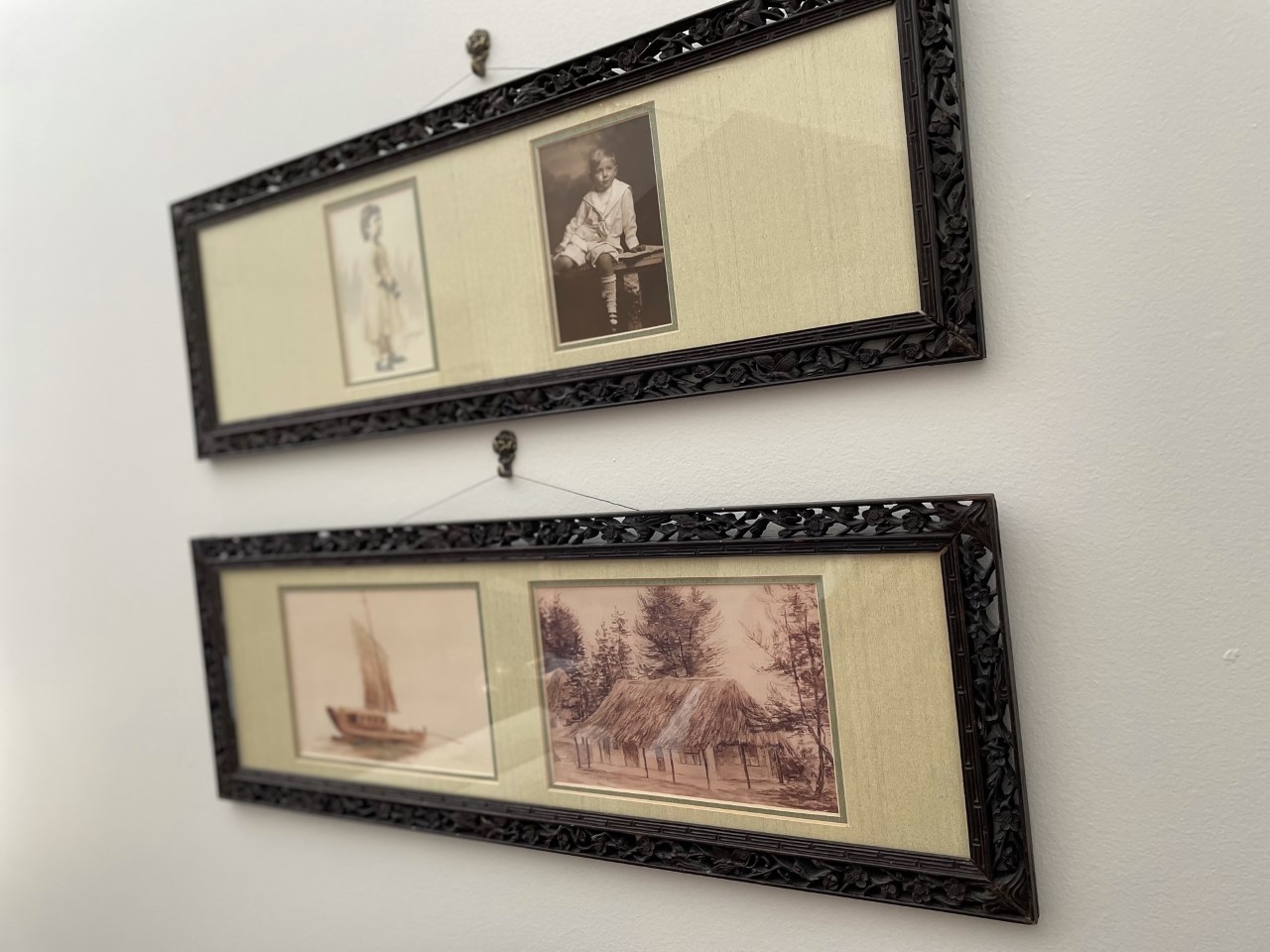 Photos of Chris's father during his childhood in China are prominently displayed in the couple's home.
After graduating from Denison, Sue and Chris pursued advanced degrees in Social Work and Guidance & Counseling. The couple lived in New York and Connecticut and Chris traveled the country consulting with children's service agencies. When Chris was offered a job in Jackson, Mississippi, Sue initially balked. "Being from the Northeast, I went kicking and screaming. The move was supposed to be for 2 years... It turned out to be 38 years."
Chris and Sue learned to love the South and both dedicated their careers to supporting children. Chris led the Mississippi Children's Home Services, a child welfare and behavioral health nonprofit organization and Sue founded a faith-based agency serving kids in foster care. Combined, they supported thousands of children in foster care and group homes and helped youth battling drug and alcohol abuse, homeless teens and children living in grinding poverty.
"When it came to time to retire, we wanted to be near family in Granville." Sue explained. They also wanted to carve out more time for traveling the world.

Photos from Chris and Sue's past travels.
After retiring, the couple bought a home near their daughter (who works on the Denison hill where they first met!) and immediately re-immersed themselves in the community. They are active in Rotary, Granville Presbyterian Church, volunteer at the Market Street Pantry and participate in a bible study group. Sue also serves as chaplain of Philanthropic Educational Organization. After a few years in their three-story home, however, the couple decided to downsize into a one-story condo. Soon after, Sue and Chris called Songbird!
They were thrilled to have the opportunity to create a detailed space plan for their new condo that made the best use of their favorite furniture, as well as art from China and around the world. After we selected the appropriate furnishings, we packed and moved their household items to the condo and set everything up for them—including putting a fresh coat of paint on the walls and hanging artwork! We then delivered the unneeded furniture and household items to Fostering Further, a charity whose work with foster care youth was meaningful to the Cherneys—and to all of us here at Songbird!
---
FAST FACTS ABOUT CHRIS & SUE'S DOWNSIZE:
Moved from: 2,500 square foot three-story home
# of years you lived in the home: 5 years
Moved to: 1,750 square foot one-story condominium
Timeline: Started preparing in early June and moved to the condo on July 29, 2021
Charities supported through downsized donations: Fostering Further
---
A CONVERSATION WITH SUE
Sue recently sat down with Susan (one of our new Songbird team members) to discuss the decision to downsize, their mutual love of Denison, and their experience working with Songbird. An excerpt of their conversation is below.
What motivated you to downsize?
Our home was three stories and we both decided that if we wanted to age in place, we needed a different space. Plus, the yard work became too much for us and hiring it out got expensive. We wanted something all on one floor and also not have to take care of the yard. It is much easier. Plus, we love to travel and weren't ready to move into a senior facility. In the future, we would love to take a cruise to Hungary.
What possessions were you happy to donate or get rid of?
Furniture we no longer had room for, especially the desks, huge pictures and extra bedding.
What possessions were the hardest to part with?
Tools & things in the garage.
What was your biggest worry or concern prior to downsizing?
We were debating whether to move into a senior living facility or a condo and we just wanted to be sure we were making the right move.
What was the best part of the downsize?
Getting rid of things I don't need! I was able to organize things in the way I wanted them. That gave me a lot of pleasure.
What was the biggest challenge of the move/downsize?
Just making the plan and jumping in.
What was the most impactful part of working with Songbird?
Their incredible, positive, upbeat nature. They are problem solvers. They're so cheerful, supportive and really sensitive and aware of our needs. Plus, I see a little bit of myself in Sam. I love her 'Let's go and get it done!' attitude.
Was there anything about the move that surprised you?
I was impressed with how much they accomplished in a relatively short amount of time. They did everything exactly like I wanted them to do! Sam wasn't afraid to share ideas for furniture arrangement. They were super easy to work with!
Anything you wish you would have differently?
I honestly can't think of anything. We are incredibly glad that we used Songbird. Our previous move from Mississippi was cut and dried and the moving company delivered all the boxes to our garage. It took us so long to unpack them ourselves and it took a long while before we really felt fully moved in. This downsize was so much easier, and Songbird took care of so many details. It was such a blessing. Our neighbors couldn't believe we had just moved in and our furniture was already arranged and unpacked.
What advice would you give to others who are considering downsizing?
Take your time and weigh all of the pros and the cons and don't be afraid to jump in and do it. We wanted to age in place and not have to make a quick move if something happened to either one of us.
I'd also recommend that you sit down and talk to Samantha and Luke and talk through the various options. They have great sensibilities and they have a lot of insights to offer on the various facilities around the area and they know how to help others get their needs met.
The Cherneys outside their new one-story condo.
Finally, anything else you'd like to share about your experience?
There is a lot of research about stress factors in life and moving is in the top 10. The stress is incredible when you move.... but one thing that Songbird accomplishes is to ease that stress. They are wonderful problem solvers.
Ours was not necessarily an "easy" move because of the added stress of the roads being paved in our condo complex when we were moving. Sam and Luke were quick to say, 'We'll figure it out!' And they did!
Sam and Luke have a great sense of humor. We shared so many great laughs during the move. Laughter is a real anecdote to stress and that in and of itself is incredible.
If we ever move to Kendal, they'll be the first one we'll call! I'll say, here's the key, take care of it all. We'll be back--we're going on a trip!